Cargo Collective
Product design
2012 — 2018
In 2012, I officially joined the Cargo team. For almost 7 years after, my work touched all aspects of the platform, the network, and the community. I worked on Cargo 1, Persona, and Cargo 2, as well as two secret projects.

My responsibilities included interface design, icon design, front-end development (very HTML/CSS heavy, occasionally jQuery), user experience design, user testing, bug reporting and quality assurance, art directing and content creation (for the templates), curating work shared to the platform, building email templates and newsletters, and managing blog entries.

While virtually everyone on the team handled some aspect of customer support, I lead the retrofit and reorganization of all the support channels alongside Cargo 2's release. Email support remains the bulk of Cargo's interaction with users, and I made that system as efficient as possible. I also pushed for and recorded all video how-to's on the new support site.

Cargo's homepage, after many iterations. Initially it was a custom development, but then built entirely with the next-gen tools of Cargo 2.
Template selection page. I worked on almost all of the current templates.

Template preview that appears in a fullscreen modal, immediately after clicking a template's thumbnail. Previews are the full template sites — completely interactive. The modal can be switched to desktop or mobile views.

"Sites In Use" — featured Cargo sites, built by users.

The Cargo Blog. Each entry becomes an emailed newsletter. One new main site featured at the top, three other new in-use sites shown underneath.

Each blog entry contains a selection of images across staff-favorite Cargo sites. The mosaic column layout riffs on Cargo 1's homepage, which mainly featured favorite images selected by members of the Cargo team.

The new Cargo 2 Support site. For this, many content pages were furnished with how-to videos that include voiceovers.

Sending a message through support was split into four distinct categories. Each category is handled by specialists on the team.

Video walkthrough of editing a page's content in the new Cargo 2 admin interface.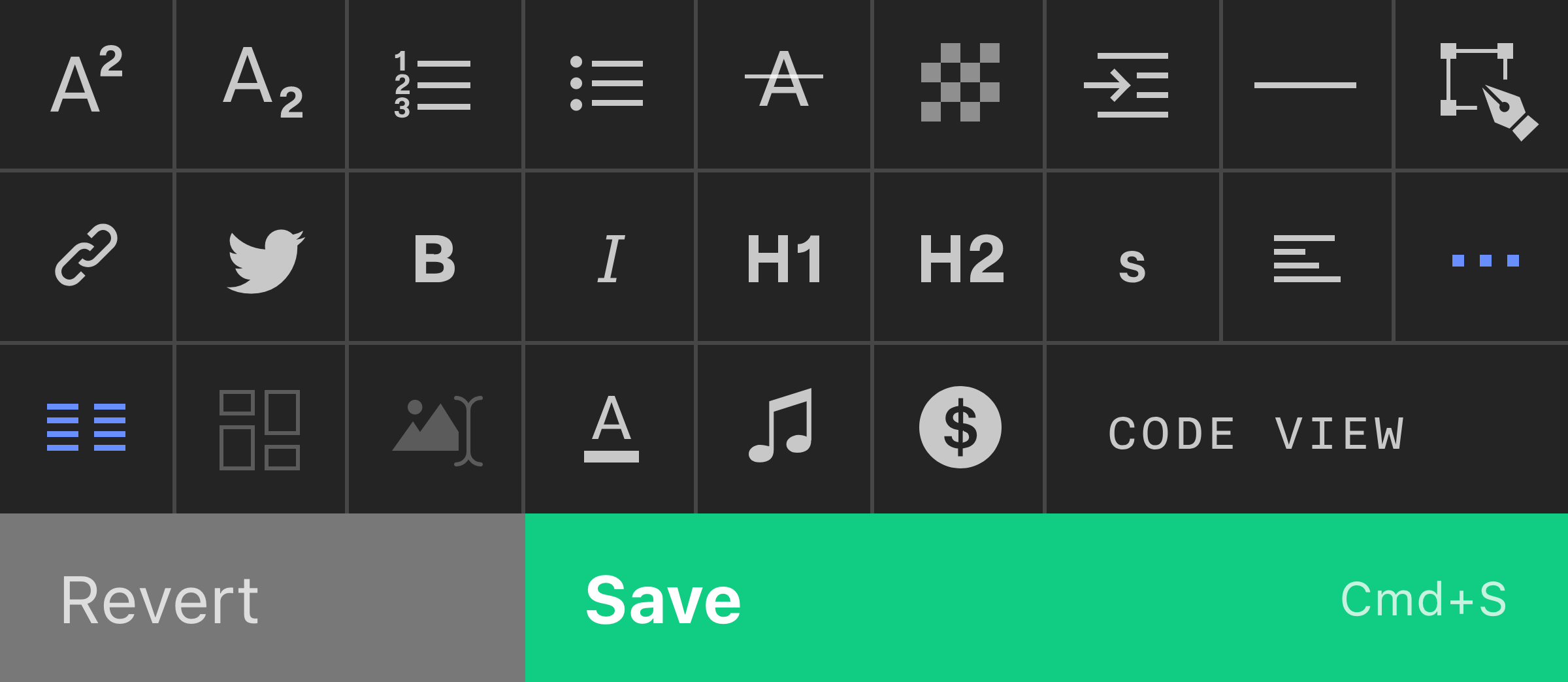 Zoomed in look at the full formatting toolbar of the Admin panel. Adapted from Persona's, with some new icons I created.

Persona's homepage. Persona laid the groundwork for most of Cargo 2's next-gen features, including Backdrops, live page editing, and built-in webfonts.

Persona's Showcase informed Cargo 2's "Sites In Use". I would personally update and curate the Showcase.

---
Andrée Wallin
Logo & site design
2010, 2016, 2018
Andrée Wallin is a concept artist and director, dealing mainly with sci-fi content — for movies, games, comics, and trailers. I designed his logo and created each version of his website since 2010. He's now creating concept art for Disney on the latest Star Wars movies, and directing his own short films and trailers for various studios.


Current iteration of Andrée's site, which is a port of the 2016 Cargo 1 version — rebuilt from scratch on Cargo 2.

---
Vertigo Entertainment
Logotype design
2013
Vertigo Entertainment is a film production company based in Los Angeles. I designed their logo. It has been in the credits of films like The LEGO Batman Movie and Run All Night (starring Liam Neeson).

---
Special Order
Site design
2017
Special Order is a creative agency devoted to producing impactful films. They are friends of Cargo, and as such, I joined a team project to design and develop a site for them on Cargo 2. The site's final design informed the direction of the Deep Idler template.

---
Tom Marble Architecture
Site design
2017

Tom Marble is an architect based in Los Angeles. I worked with him on a brand new version of his site, making each of his projects use expansive image grids, and liberally utilizing "Dodger Blue" in the color palette to make his site stand out from others.


---
Aaron Wojack
Site design
2018
Aaron Wojack is a photographer based in San Francisco. I designed him a new site that could show off his work in two distinct categories.
---
Swig Studio
Site design
2016
Swig Studio is a design studio that specializes in packaging and label design, mainly for all manners of drinks as their name implies. They reached out to me to make them a new site.

---

More work coming soon.
Reach me at david@dboni.com